A historical town will have its stories, and so it is for Mohill. For visitors and new neighbours, there are places of interest to discover and enjoy and there are people from today and yesteryear who have made their mark. We invite you to read on and meet a few of them.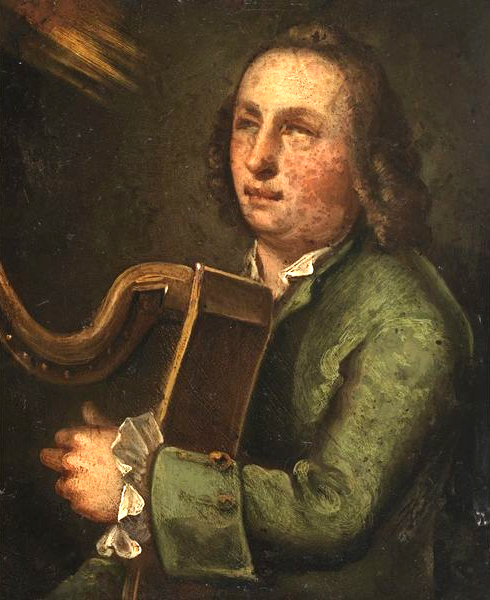 Turlough O'Carolan
"The Blind Harpist"
Turlough O'Carolan is renowned as one of Ireland's greatest composers and "last of the Irish Bards".
Though born at Nobber Co. Meath, he settled at the age of 18 on the St. George estate near Carrick-on-Shannon. Leitrim and North Roscommon were his base for the rest of his life and lived in Mohill for a period of time.
At the age of 22 he was struck blind by smallpox. Encouraged by his patron, he turned to music as a career. O'Carolan produced over 200 works, much of it scattered all over the world and adapted for opera and other works. He died on March 25th 1738 at the age of 68 and was buried in Kilronan Cemetery, near Ballyfarnon County Roscommon.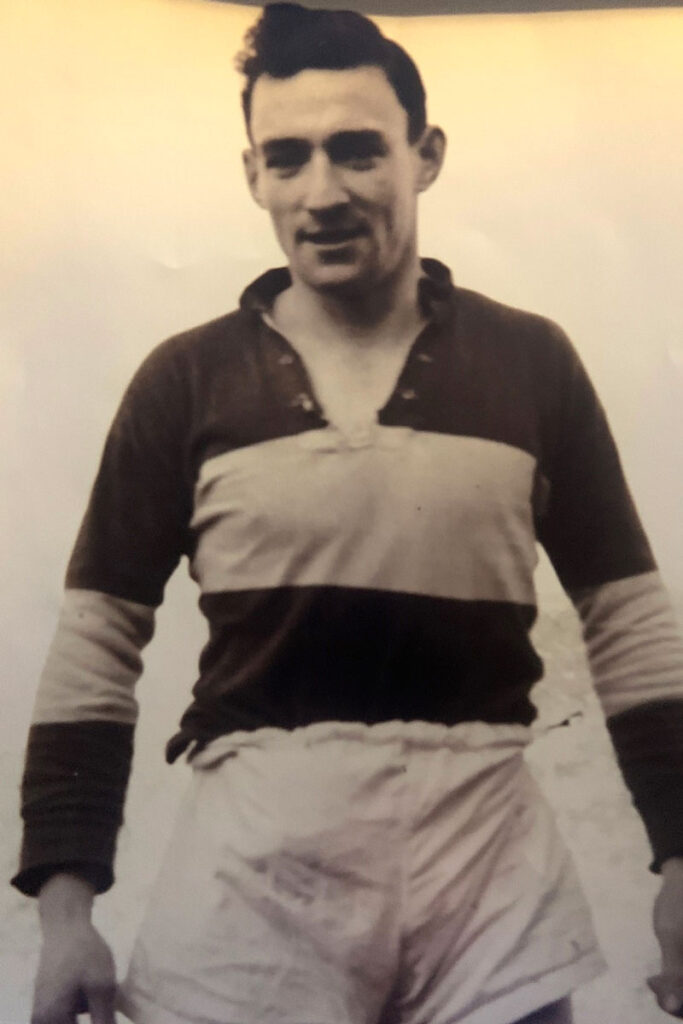 Packy McGarty
"The Pride of Leitrim GAA. The pride of Mohill GAA."
Packy McGarty, not only one of the greatest Leitrim footballers to put on a county jersey but one of the greatest footballers of all time. Not just because he was a great footballer but because he embodied all that is admirable in human nature – pride of place, utter dedication, an almost fanatical devotion to the cause of Leitrim Football and a complete absence of bitterness. Above all, despite all the near misses and litany of disappointments, he retained that youthful enthusiasm that sustained him, year after year for all the 22 years he played inter-county football (1949-1971).
Packy was instrumental in getting Leitrim to four Connacht finals in a row – 1957, 1958, 1959 and 1960 and 1963 & 1967. The 1958 Connacht Final, however, more than any of the others, has bittersweet memories for Packy, which Galway won by 2 points, 2-10 to 1-11. Sweet, because it was, perhaps, his greatest game ever in the Leitrim Jersey. Bitter, because it was another defeat in a game Leitrim could have won.
Other highlights form Packy's career also included:
The 1954 Railway Cup game against Munster in Tralee
The Railway Cup semi-final v Leinster in 1958
The 1958 Connacht Final v Galway
The JF Kennedy games in New York in 1964, when two players were selected from each province to play in a Memorial Game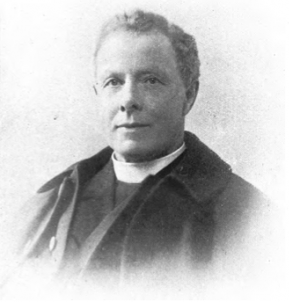 Rev. Joseph G. Digges
The Father of Irish Beekeeping
Rev Digges lived at Clooncahir, Mohill. He is regarded as the father of Irish Beekeeping. Modern Irish beekeeping owes much to this local man, the Reverend Joseph Robert Garven Digges, who although born in Dublin, he spent much of his life in Mohill, Co. Leitrim. He joined the Irish Beekeepers Association and was chairman from 1910 to 1921. He was editor of the Irish Bee Journal published from May 1901 to October 1933 and in the 33 years of publication, he only missed 4 issues. One of which was the May 1916 issue which was blown up on the way to the printers during the Easter rising of that year.
Becoming proficient in bee-keeping, and anxious to promote the method of removing the honey crop from the hive without killing the bees, by using moveable frames, he started travelling extensively throughout Ireland on behalf of the Department of Agriculture and Technical Instruction, attending agricultural shows and lecturing. He promoted the "Congested Districts Hive", Designed to me made and used in the poorer areas of Ireland to provide an income where the land was poor.
A great believer in promoting local industry, he helped to found the local co-operative creamery and the bank in Mohill, and was a director of the Cavan & Leitrim railway and also of the Arigna mines. Digges "was to earn high repute as a first class trouble shooter" (Flanagan, "The Cavan & Leitrim Railway" 1966) and was always sent in when problems arose.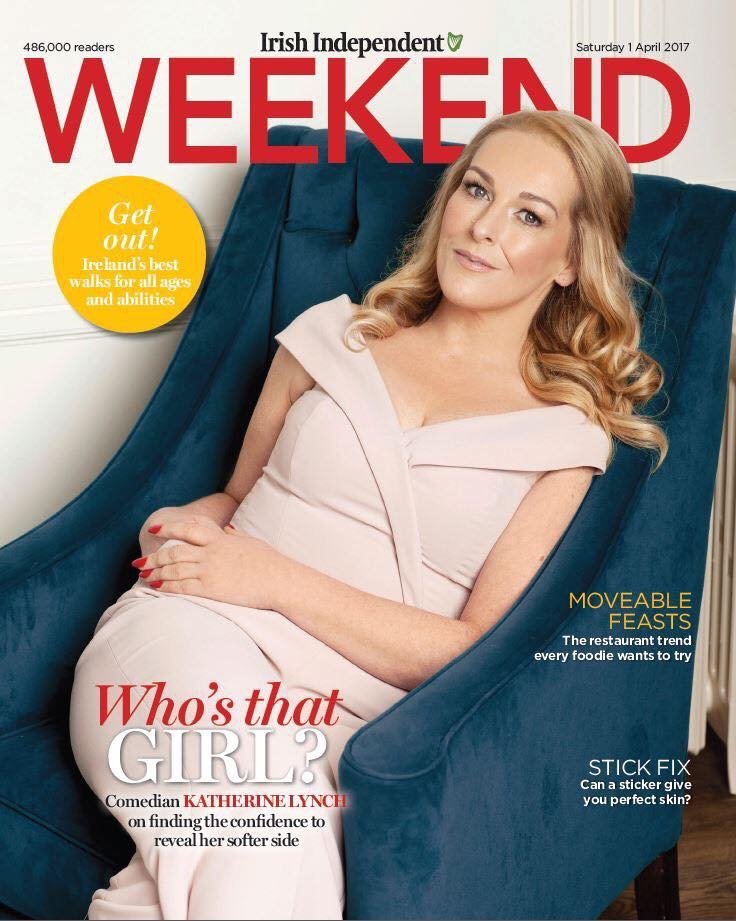 Katherine Lynch
The grand-niece of Patrick Kavanagh on her mother's side and a first cousin of Kerry footballer and manager Páidí Ó Sé on her Dad's side, Katherine Lynch is Ireland's leading female comedian. Born and raised in Mohill, Lynch is as achieved so much throughout her career to date.
With several hit comedy series on RTE television, a Christmas DVD placed at No.1 in the national charts and sold out National Tours, Katherine is revered as the queen of over-the-top comedic creations both on and off screen. Her incredibly successful career say Lynch participate as a bainisteoir in the RTÉ 1's 'Celebrity Bainisteoir'.
From an early age Katherine loved drama and the arts and all of this came together for this incredibly talent in the late 1990's. The 2000's was the time when Katherine Lynch became a household name when her first television series took to our screens in 2008. Working Girls, a three-part series that introduced us to some unforgettable characters; Singin' Bernie Walsh, Sheila Sheik and Busty Lycra. Katherine describes this, her original show Katherine Lynch's Working Girls as a "hybrid" series and featuring both sketches and interaction with the general public.
She went on to make Katherine Lynch's Wonderwomen as well as An Audience with Katherine Lynch. She also hosted the Big Fat Breakfast Show with Brian Dowling, in 2009 was a manager in Celebrity Bainisteoir and in 2010 Katherine Lynch's Single Ladies began. 2016 Lynch took part in RTE's Operation Transformation and 2017 saw her take to the dance floor with her self-confessed "two left feet" that "have a very dysfunctional relationship."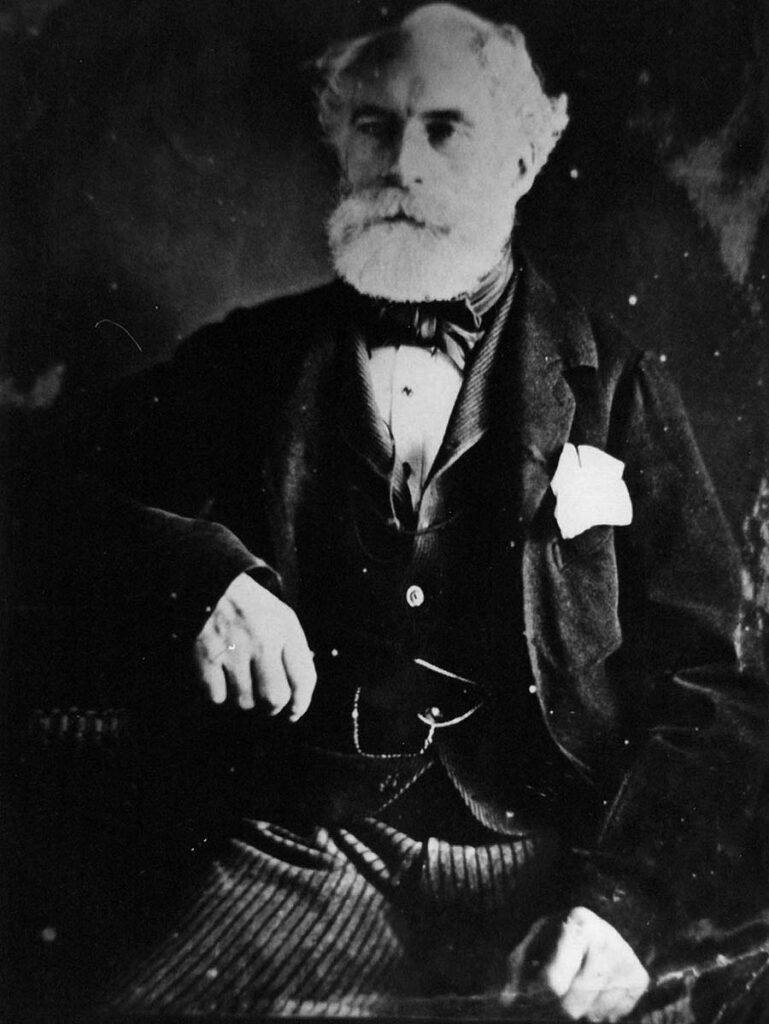 Lord Leitrim
In 1806, Lord Leitrim was born William Sydney Clements, the second son and 5th child in a tightly knit family. Being the second son, he never expected to inherit the family title or the lands. But as the story unfolded, it was to be his fortune and he soon became the most notorious of all the residents of Lough Rynn Castle.
The following extract from LoughRynn.ie tells the tale of Lord Leitrim.
"A bold yet reckless soldier in his youth, he seemed to revel in growing into a callous and merciless landlord. He took particular pride in the ruthless way he evicted his tenants, with few escaping his reach, his brutality or his pettiness. Whether it was his work, his ego or his reputation, he remained unmarried, preferring instead to travel around his estates keeping a close eye on his tenants, something his journals, account books and rent ledgers outline in great detail.
When he wasn't being particularly hard on farmers, he was also an active parliamentarian working tirelessly with William Smith O'Brien, a radical Catholic politician, to get administrative and agricultural reforms pushed through parliament. However, unable to break the spirit of hardened politicians as easily as he was those of the peasants under him, his aversion to authority continually led to constant clashes with those in parliament and, in particular, the big wigs in Administration in Dublin Castle. At one stage during the famine, he pointed the finger at the government as the cause of the catastrophic events unfolding around the country. Disillusioned, angry and less able, he retired as an MP in 1847, leaving his seat to his brother Charles.
Workers, farmers and machine operators worked tirelessly to realise Lord Leitrim's dream. Each week, they'd prop themselves upon the 'pay seat' under the porch opposite the offices and wait for their hard-earned wages. When it was their turn, they'd stand on a stone block under a tiny window near the door of the coach house, from which they'd receive their money. While treats were rare, Christmas would (sometimes) see Sydney distribute meat amongst the workers and their families.
A Fitting End
In 1878, Lord Leitrim undertook a number of particularly brutal evictions from his estates in Donegal. Afterwards, while travelling from Donegal back to Lough Rynn, William Sydney Clements was assassinated in a hail of bullets aged 72. The list of potentials culprits was as large as the number of enemies he had made over the years. While his treatment of his tenants, his fellow politicians and his employees was terrible, he seemed to have particular resentment of women. In fact, shortly before his murder, an accusation was aimed at Lord Leitrim for having debauched one of his young servant girls – the daughter of one of his three assassins.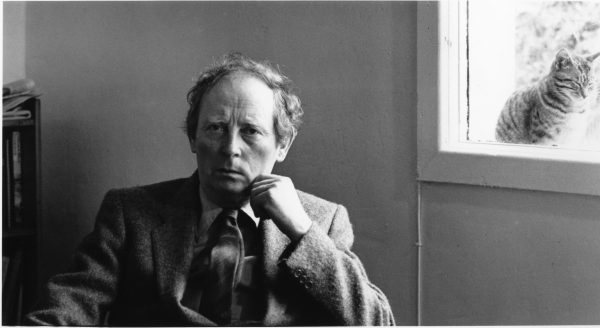 John McGahern
Known for the detailed dissection of Irish life found in works such as The Barracks, The Dark and Amongst Women, Leitrim native John McGahern is regarded as one of the most important Irish novelists of the 20th century.
Born in Knockanroe about half a mile from Ballinamore, County Leitrim, John McGahern was the eldest child of seven. He was raised alongside his six young siblings on a small farm in Knockanroe. McGahern's mother ran the farm (with some local help) whilst maintaining a job as a primary-school teacher in the local school. His father, a Garda sergeant, lived in the Garda barracks at Cootehall in County Roscommon, distant from his family. McGahern's mother subsequently died of cancer in 1944, when the young John McGahern was 10, resulting in the uprooting of the McGahern children to their new home with their father in the aforementioned Garda barracks, Cootehall.
In the years following on from his mother's death, McGahern completed his primary schooling in the local primary school, and ultimately won a scholarship to the Presentation Brothers secondary school in Carrick-on-Shannon. Having travelled daily to complete his second-level education, McGahern continued to accumulate academic accolades by winning the county scholarship in his Leaving Certificate enabling him to continue his education to third level.
Following on from his second level success, McGahern was offered a place at St Patrick's College of Education in Drumcondra where he trained to be a teacher. Upon graduation from third level education, McGahern began his career as a primary schoolteacher at Scoil Eoin Báiste (Belgrove) primary school in Clontarf where, for a period, he taught the eminent academic Declan Kiberd. He returned to third-level education in University College Dublin where he graduated in 1957. He was dismissed from Scoil Eoin Báiste on the order of the Archbishop of Dublin, John Charles McQuaid. He was first published by the London literary and arts review, X magazine, which published in 1961 an extract from his first – abandoned – novel, The End or Beginning of Love.
He died from cancer in the Mater Hospital in Dublin on 30 March 2006, aged 71. He is buried in St Patrick's Church Aughawillan alongside his mother.